The research is part of the European MADRAS project which will enable mass production of this type of electronics, known as OLAE, for accelerated time-to-market.
Seen as a viable alternative to conventional electronics, OLAE devices include organic electronics printed on flexible surfaces such as plastic or paper.
Their applications range from producing smart packaging, roll-up displays and flexible solar cells to single-use diagnostic devices and printed batteries along with other innovations.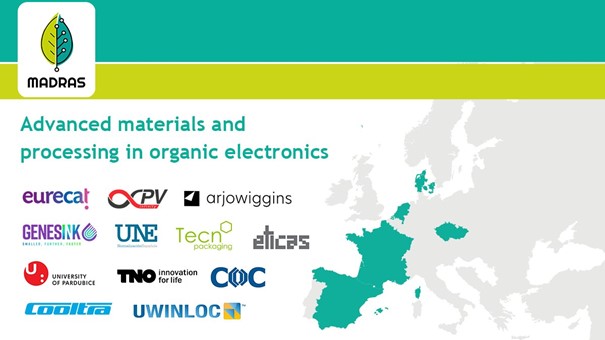 France, October 8th 2020.- The European MADRAS project aims to develop new materials and manufacturing processes for scalable mass production of organic electronics devices, also known as OLAE devices, integrated into plastic parts for accelerated time-to-market.
Progress in printed electronics and materials has paved the way for products with new features, lighter, thinner and more flexible. This has driven the development of the technology and the spread of applications for a range of sectors.
Organic devices are seen as a viable alternative to conventional inorganic conductors, such as copper and silicon. Their operation integrates organic electronics printed on flexible surfaces such as plastics or paper for numerous applications, including producing smart packaging, roll-up displays, flexible solar cells, single-use diagnostic devices and printed batteries along with other innovations.
In the words of Rosa Araujo, a project manager at Eurecat and MADRAS coordinator, MADRAS aims to "demonstrate an improvement in OLAE devices by establishing a robust alternative manufacturing methodology and an innovative approach in a scalable competitive process."
The project "proposes two products for the people authentication market and smart manufacturing, which will showcase a shift towards digitisation and the Internet of Things so as to contribute to the sustainable deployment of smart products for consumer use," she notes. These products "belong to the global emerging trend of structural electronics with very large addressable markets such as the automotive industry, healthcare and many others."
In the MADRAS project "we will work on developing transparent conductive materials which will allow for building stable printed devices with longer lifetimes," points out Eugenia Martínez-Ferrero, the project's technical coordinator and head of the Photonics line in Eurecat's Functional Printing and Integrated Systems Unit. "These new features will make it possible to make more exciting and lower-cost integrated products."
The MADRAS project will use In-Mould Electronics, also known as plastronics, to enhance the device integration process, increasing resistance to humidity and wear and tear and adding custom-made connectors, and additionally as a manufacturing process for the advanced materials with better conductive and resistant properties proposed in the project. This technology combines functional printing of electronics and hybridisation of electronic components with traditional plastic transformation processes, such as thermoforming and injection, to create plastic parts with electronic functions.
The innovative technology developed as part of the project will be implemented in two printed electronics demonstrators integrated into plastic parts. Specifically, it will be demonstrated with a flexible geolocation label for the packaging sector and a biometric photosensor which will be employed to identify users of an electric mobility service.
The MADRAS project is funded by the European Union's Horizon 2020 programme and coordinated by the Eurecat technology centre. It involves 11 other partners from Spain (Eticas Research and Consulting, TECNOPACKAGING, UNE and the Cooltra Group), France (GenesInk, Arjowiggins and Uwinloc), Denmark (infinityPV), the Netherlands (TNO) and the Czech Republic (COC and University of Pardubice).