Printing electronics on 25µm thin film is now a reality making 35µm thick FPCB possible.
Printing conductive lines on thin film has always been a problem: substrate wrinkling, poor adhesion on untreated PET, impossibility to print multilayer circuits. These issues have prevented many developments in thin film devices.
Mr. Sano, from SP Solutions in Japan has been working in screen-printed electronics over the past 30 years. He is considered as the expert for screen-printed electronics in Asia. He found a solution to those issues and was able to print successfully several designs on 25µm films.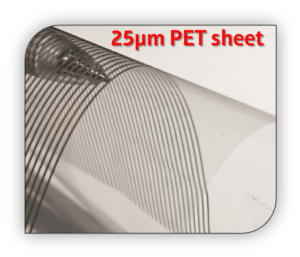 All current silver paste and ink contains curable binders. During the curing phrase the binders (organic components) shrink and retract the silver ink creating waves on the surface of the film. It results in poor film planarity, poor silver adhesion and reduced conductivity.
In order to avoid these issues, Mr. Sano printed GenesInk's Smart Screen Inks on 25µm PET sheet from Ootsuki Kougyon (adhesion surface treatment). The results showed excellent adhesion (5B), no wrinkle and superior conductivity (12X vs silver paste).
Smart Screen Inks are based on nano-sized silver particle and do not contain binders. It results in much thinner print, improved line density, no shrinkage, and superior conductivity.
Resistivity of GenesInk print sample was reduced by a factor 12 versus silver flake paste.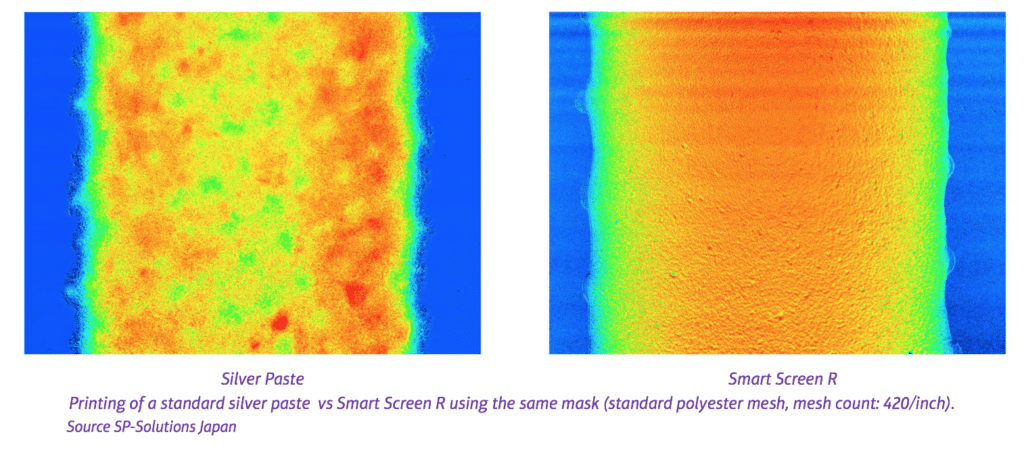 GenesInk inks which do not contain any curable binders are "shrinkage-free" inks. This is an important features for printing on thin PET substrates (below 50µm thick).
Therefore it is possible to print conductive patterns at the surface of 25μm thick PET sheets without any troublesome wrinkles or warping which are usually observed with standard silver pastes printed on such thin flexible substrates. If low shrinkage materials (optimized for the manufacture of flexible circuits) are used as dielectric, then it becomes possible to make 35μm thick circuits boards (ink 1µm, dielectric 9µm, PET substrate 25µm).
Printed PET films were carried out at Mino group in Japan, and consisted in printing of Smart Screen R and a standard silver paste with the same mask: standard polyester mesh, mesh count: 420/inch; line pattern width = 500µm, length = 10cm.
On top of the printing possibilities offered by GenesInk Smart Inks is their ability to be bent at very small radius down to 2 – 3 mm, enabling designers to create devices in space with more constraints.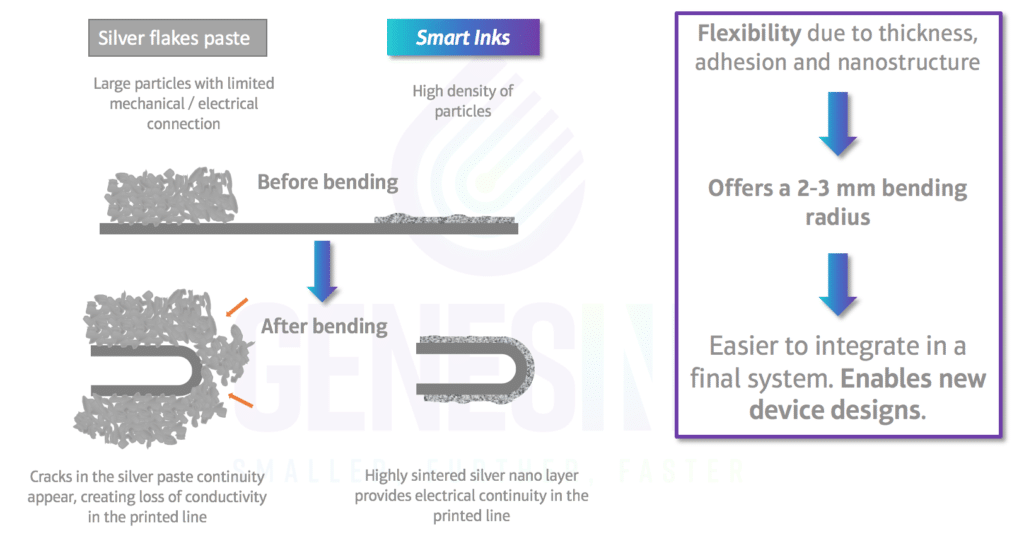 More? Trial it?  email us at contact@genesink.com