Printing metal nanowires are particularly attractive as compared to conventional coating methods due to the ease of processing, direct patterning, and large-scale fabrication capability. However, it is still challenging to print metal nanowire patterns that simultaneously have high conductivity, high transparency, flexibility, and stretchability.
Flexible and stretchable devices have become crucial for relatively new applications such as flexible sensors and actuators, electronic textiles, deformable displays, and electromagnetic structures. It is essential in these fields to develop electrodes that can offer decent conductive properties despite enduring multimodal and repeated deformations. Instead of structurally upgrading conventional materials through instability mechanics, the bottom-up assembly of nanomaterials represents an alternative and particularly promising route. Devices associated with these methods can intrinsically survive large deformations and still maintain remarkable electrical properties. Advances in this context have led to the development of many nanomaterials, including nanowires (NWs), nanotubes, and graphene. Among these building blocks, silver nanowires (Ag NWs) have attracted extensive attention in the last decade because of the excellent mechanical compliance, such as stretchability and flexibility, which is essential for wearable electrodes. Moreover, many film-like electrodes made of Ag NWs are capable of achieving both high optical transparency and high electrical conductivity, two critical parameters for many optoelectronic devices, including liquid crystal displays, light emitting diodes (LEDs), solar cells, and touch panels.
Recently, the fabrication of Ag NWs and Ag NW-based electrodes has made significant progress. The fabrication of flexible Ag NW conductors through coating methods and printing methods, with various conductivity and transparency has led to specific applications in LEDs, resistive heaters, thin-film transistors, and solar cells.
Extract from Nature publication: https://www.nature.com/articles/s41528-019-0057-1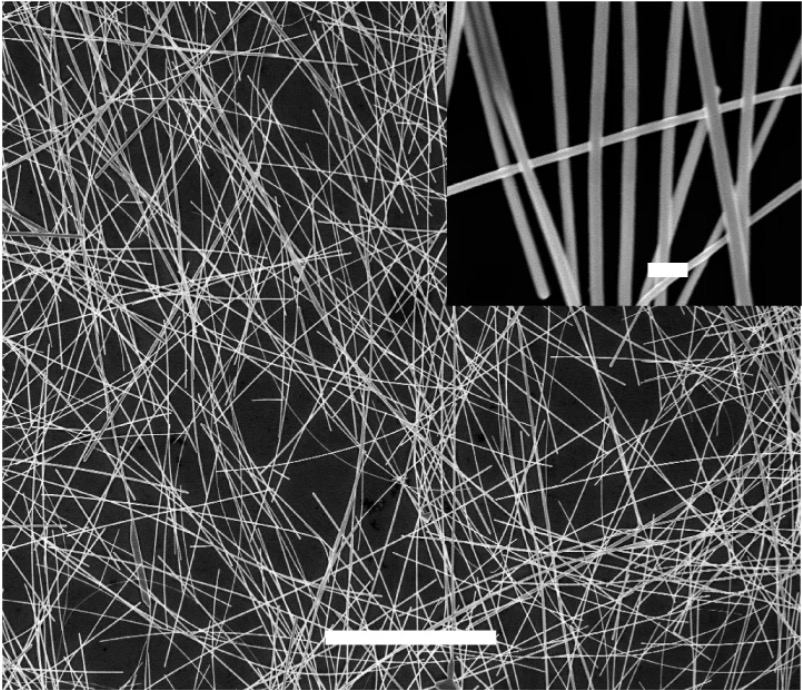 Image : Nature